Our Team
Dr. Linda Clarke, co-founder, senior investigator, case manager, licensed mental health therapist
Linda Clarke has been a cryptozoology and paranormal investigator for over 30 years. She is a licensed Mental Health Counselor and understands psychology, as well as the mystery of parapsychology, and has a M.S. in Biology to work within the area of Cryptozoology. She believes that all of life is a mystery.
Brandy Nance, co-founder, senior investigator, website guru
Brandy Nance has been a paranormal investigator for over 10 years. As a sensitive, her experiences with the paranormal go back to a small child when she saw her first apparition. Brandy enjoys researching the paranormal and sharing her findings with others. She also is passionate about helping others.
Annette Kelley, co-leader, case manager
Annette has been a Paranormal investigator for over 30 years. She is a documented Empath/ Sensitive also known as a medium by psychologist Greg Smith of Wichita, Kansas. She has dealt with the Paranormal world since she was a very young girl. "I believe that every spirit has a story to tell, and I believe that there are other answers to a possible Paranormal experience. My goal to find out what's happening and help come up with a solution that helps you and the spirits have peace and clarity."
Cheryl Wagner, senior investigator
Cheryl Wagner has always been interested in the paranormal, and has wanted to be a paranormal investigator for years. She believes in the spiritual realm, and that there are things out there that we don't understand. Cheryl is interested in the research of paranormal activity, and helping people find answers and solutions to their problems.
Kenny Kelley, investigator
Kenny has been a Paranormal investigator for 20 years and enjoys investigating with his wife, Annette. "I enjoy helping people with their possible Paranormal problems and finding solutions," Kenny said.
Kathy Riggs Herrera, senior investigator
Kathy's interest in the paranormal stretches back over 20 years to an encounter with a caring spirit. She brings curiosity balanced with a desire to find answers to the unknown and her quest is to find evidence and reveal the truth behind unexplained phenomenon. She enjoys learning and seeks to gain knowledge in the paranormal field.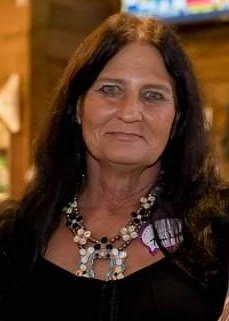 Terri Levin, investigator
Terri Levin, married to Wally Hitchcock, has a Bachelors degree in Social work, Associates in Substance Abuse Counseling from Eastern New Mexico University. She holds Certificates from White Bison, Red Road to Wellbriety and Native American Recovery. Terri is Mescelero Apache. "I was given the spiritual gifts of seeing and receiving messages from the unseen world as a small child. My wish is to help others better understand the unseen world and how it relates to the seen world."
Tagan Trahoon, investigator
"I've had a lifelong fascination with the paranormal since discovering my sensitivity and acute awareness of the paranormal at a young age. While I am relatively new to the world of paranormal investigations, I am no stranger to spirits and the like. I joined Flint Hills Paranormal so I can use my "gifts" to help others and grow my own understanding of the paranormal, the science and skills behind investigations and to be a part of a tight knit team."
Vanessa Salazar, investigator
Vanessa has had experiences with the paranormal since she was a child. She hopes to gain more knowledge in paranormal investigations to help better understand her experiences and to help others who experience similar phenomenon.
Walter 'Wally' Hitchcock
Wally is a professional photographer and has always had an appreciation for historic places. His interest and development of his senses in the paranormal has grown with the support of his wife, Terri Levin. "Through the years, we've been able to team up to help people identify the spirit (s) in their home and when needed, cleanse and bless the home." Wally says his best experience with the paranormal was playing chess with Geronimo.